Donald Trump's executive order to close America's borders to travellers from some Muslim-majority countries caused chaos on Saturday, as multiple people who had flown to the US were held at major airports while others were barred from boarding flights or were pulled off planes overseas.
By Saturday evening, there were 11 people in detention at New York City's John F Kennedy airport who had arrived from Iraq and other barred countries, according to two Democratic members of Congress, Jerry Nadler and Nydia Velazquez, who joined protests at the airport.
According to representatives of immigration and civil rights group who spoke to reporters on a group call, other travellers were being held in Atlanta, Houston and Detroit.
Pre-approved refugees, students and workers holding visas and residency green cards were barred from flights to the US, according to reports emerging from Amsterdam, Frankfurt and Cairo and other cities across Europe, the Middle East and Africa. By evening in New York, hundreds of protesters had massed at Kennedy airport, and demonstrators gathered at at least 10 other major airports, including Dulles, LAX, San Francisco, Denver and Philadelphia.
As confusion reigned at airports, universities and businesses across the US, a spokeswoman for the Department of Homeland Security confirmed that people with green cards, making them legal permanent US residents, were included in the ban.
Trump's executive order, signed on Friday, temporarily banned refugees from around the world, blocked Syrian refugees indefinitely and halted entry for 90 days for people from seven predominantly Muslim countries: Iraq, Syria, Iran, Yemen, Sudan, Libya and Somalia.
At the White House on Saturday, Trump expressed no doubt about his orders, saying: "It's not a Muslim ban, but we were totally prepared. It's working out very nicely. You see it at the airports, you see it all over."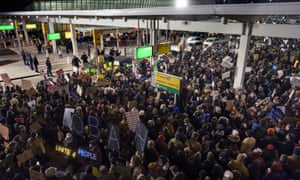 A state department spokesman confirmed to the Guardian that travellers who have dual nationality between a country on the list and another non-US country, for instance UK-Iraqi or Canadian-Somali citizenship,are barred from entering the US for 90 days. The order provides for giving priority to religious minorities in those Muslim countries; Trump has said the US will in future prioritise Christian refugees.
In New York City, two Iraqi refugees were detained at JFK airport. One, Hameed Khalid Darweesh, had worked in Iraq for the US government for 10 years. The other, Haider Sameer Abdulkhaleq Alshawi, was coming to the US to join his wife who had worked for a US contractor.