After a month of thrills and shocks, the 2014 Fifa World Cup was wrapped up last Sunday, July 13.
The tournament proved an appetising mix of entertainment, excitement, tears and, above all, a symbol of unity as the beautiful game took center-stage while troubling issues of governance and economics worldwide were relegated to the background. For once in a long while, the world spoke one language: Football.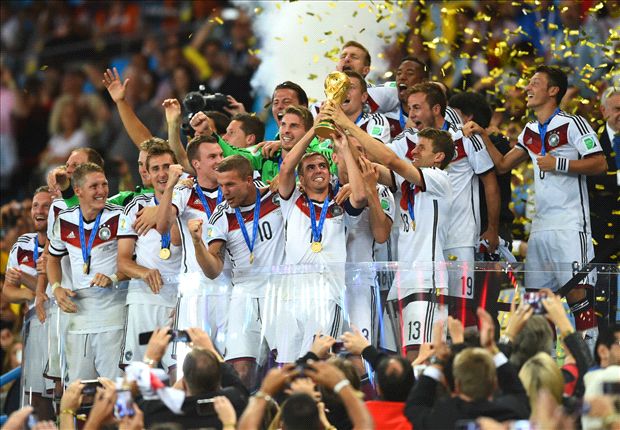 WORLD CHAMPIONS | Germany are the new football kings
While the latest edition of the World Cup provided every fan with fun and a platform for the sport's biggest names to prove a point, it was quite sad that some of these stars failed to propel their respective teams far enough. Nevertheless, we still enjoyed what Brazil 2014 had to offer.
In all, 32 countries were represented at the World Cup: hosts Brazil, another quintet from CONMEBOL, five and four from Africa and Asia respectively, 13 European sides, and four from North America.
Each country, as expected, presented its best players to prove their mettle at the global football fiesta. From the likes of Bastian Schweinsteiger of Germany through the Messis and Neymars to Costa Rica's Bryan Ruiz, all had something great to offer, and what a dazzling display of football they entertained us with!
The tournament could not have delighted us so without leaving behind surprises and eventualities set to go down in the annals of the game.
To begin with, teams like Colombia and Costa Rica proved surprise packages, making it to the Round of 16 and quarterfinals respectively, leaving in their wake giants like Uruguay, Italy, and England.
In the course of the group stages, two brothers (Kevin-Prince and Jerome Boateng) played for opposing teams on a second occasion on the world stage, with the former turning out for Ghana while his younger sibling represented Germany. Cameroon, of all the participants, were statistically worst, finishing with no points and a deficit of eight goals in Group A.
Still in the first round, defending champions Spain were thrashed 5-1 by the Netherlands while Germany also handed Cristiano Ronaldo's Portugal a 4-0. On more surprises respecting scorelines, Greece beat the Elephants of Cote d'Ivoire 2-1. Chile, who many might have considered as pushovers, held host nation Brazil to a pulsating 1-1 draw in the Round of 16, with the Selecao eventually winning 3-2 on penalties.
The showpiece also witnessed the highest tally of goals ever registered in the quarterfinals of any World Cup. Germany beat Brazil 7-1, thus adding up to the eventual total of 171 scored at this Mundial [compared to the 145 recorded at South Africa 2010].
Intriguingly, the victors in one shootout context were vanquished in the next: Costa Rica beat Greece and were subsequently defeated by the Dutch who, in turn, went on to lose to Argentina. In the larger picture, no team that won via penalties – namely, Brazil, Costa Rica, the Netherlands, and Argentina – triumphed on advancing to the next round.
The victorious Germans finished as overall top-scorers, with 18 goals.
New records, Deserved prizes
Brazil 2014 saw individual players set new records to make history. From Sami Khedira who got his first international strike for Germany to the likes of Ghanaian centre-back John Boye who scored own goals, this competition would forever remain memorable.
Ghana captain Asamoah Gyan broke Roger Milla's African record of five World Cup goals. A sixth against Portugal took him clear atop the charts.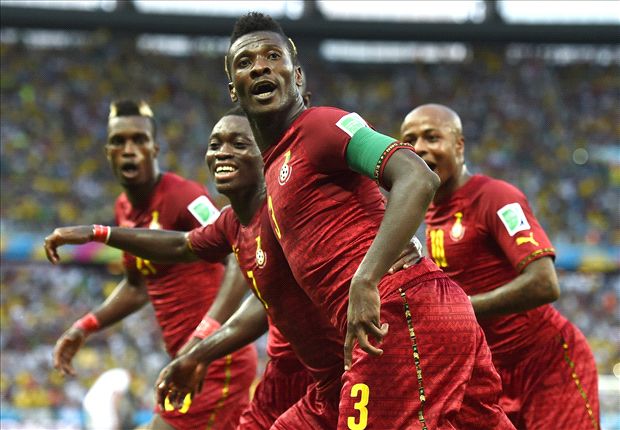 LE-GYAN-DARY | Asamoah Gyan is an African legend now.
Miroslav Klose, the experienced Germany striker, surpassed retired Brazilian phenomenon Ronaldo as the World Cup's all-time leading scorer, a 16th goal [and a 15th scored earlier] ensuring he can now quit his international career on a high.
Another German, Thomas Muller, came second in the scoring charts and also took home the Adidas Silver Ball for his overall performance at the World Cup.
James Rodriguez of Colombia, with six goals, received the prestigious Adidas Golden Boot, while his country won the FIFA Fair Play award.
On a personal level, Colombia's second-choice goalkeeper Faryd Mondragon, with a late cameo in a group fixture against Japan, became the most aged player to represent any nation at the World Cup, overtook Cameroon legend Milla's long-standing mark by at least a year. Mondragon, at 43, was the oldest player present in Brazil.
Perhaps most significantly, Germany became the first European team to claim the trophy on South American soil.
Interesting twists and turns
Ghana, who had beaten the USA 2-1 on two successive occasions at the World Cup, succumbed to the Stars and Stripes this time, and by the same scoreline. The irony therein is that, whenever the pair have clashed at the World Cup, the losing side has been under the guidance of an indigenous coach, with Ghana's Kwesi Appiah joining Americans Bruce Arena and Bob Bradley in such uneasy company.
Plucky Algeria became the only African team ever to score more than three goals in a World Cup match, beating South Korea 4-2. Greece's team also gave up the bonuses promised them by their government after they made progress to the knockout phase. The players rather asked that their bonuses be used to build a football training center in Greece to groom young talent. A generous gesture indeed!
Predictions
Observations on Brazil 2014 cannot be truly complete without commentary on the usual pre-tournament predictions regarding who the new world champions could be (especially after the death of the octopus Paul, 'psychic' genius of the last World Cup). South African illusionist Ilan Smith would thus be recalled as the man who correctly predicted the scoreline for the Germany-Argentina final, going further to name the goalscorer (substitute Mario Gotze) and the minute in which the goal would be scored (113th). Impressive, huh?
Sour issues
There were unpleasant developments as well, as the competition unraveled in all its glory, most of which could have been avoided had a little patience and decorum been exercised by those involved. Consider Ghana who made headlines globally for all the wrong reasons, with the West African nation's government airlifting as much as $3.5 million to Brazil to settle the Black Stars' appearance fees, but only after the players had threatened to boycott their decisive third group match with Portugal if the promised sum never arrived in time.
Prior to said game, Sulley Muntari and Kevin-Prince Boateng, two of Ghana's key squad members, were sacked from camp over reports of insults and violence, a situation that has had various versions of what actually transpired related. Just when the world thought it had had enough of the bad publicity for Ghana, some Ghanaian fans, flown to Brazil to cheer the team, refused to return home and sought asylum on the obviously false pretext that they were escaping 'religious conflict.'
Nigeria, Ghana's regional neighbour, were in the news as well when its players refused to train over a cash row. Needless to say, the Nigerians did a better job of handling their issues than did Ghana. There was also Cameroonian midfielder Alex Song who elbowed Croatian Mario Mandzukic and duly got sent off in the course of a 4-0 defeat. After Song's exit, left-back Benoit Assou-Ekotto headbutted, and then got into a fight on the pitch, with teammate Benjamin Moukandjo.
Uruguayan forward Luis Suarez completed an infamous hat-trick of bites when he dug his teeth into Italian Giorgio Chiellini's shoulder in the heat of a group stage encounter. Fifa sanctioned Suarez, who has since completed a mega move from Liverpool to FC Barcelona, with a four-month suspension from all football activities in addition to a nine-game international ban, a decision some – including the 'victim' himself – have described as harsh.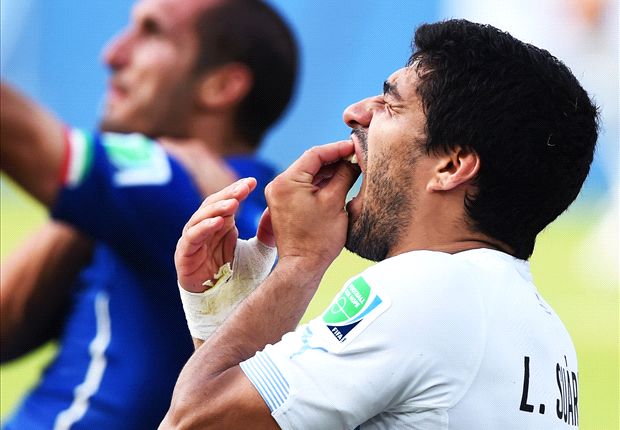 END OF THE ROAD | Suarez bite more than he could chew this time
Continuing on a distasteful note, Brazil lost star player Neymar to serious vertebrae damage inflicted by Colombia's Juan Camilo Zuniga in the quarter-finals. The injury ruled the 22-year-old out of Brazil's ultimately ill-fated date with Germany in the last four.
Tragedy struck in the Ivorian camp, too, as brothers Yaya and Kolo Toure received heart-rending news that their brother Ibrahim had been lost to cancer.
Some lessons
Brazil 2014 did bring many lessons to the fore. For starters, patriotism and national pride were core values for many of the contesting sides. We also learnt that football is no longer just about the big names and that there are no true underdogs anymore.
That aside, qualities like unity, determination, dedication, commitment, discipline, and zero tolerance for complacency all proved outstanding, and arguably none portrayed these quite like triumphant Germany did.
While other sides built their play and plans around the perceived individual stars they boasted, Germany considered themselves largely a team of equals and got rewarded for it.
A veritable testimony to teamwork, wouldn't you say?
By Esther Eyra Doe